TECHNICAL INFORMATION
Monitored piano type control panel designed purpose of using on industrial indoor Places which produced as single and double cover. Provides easy assembly and accessibilty by it's compact structure.
IP 54 PROTECTION
Provides maximum protection for years against water and dust with unchangeable structure force of liquid polyurethane seal which implemented on door covers. Electricity and electrical parts are under protection for all panels and cabin covers with our standard Liquid Seal System implementation.
BASE
As standard with the control panel, one base is given. Base control panel designed maximum protection to prevent external factors from entering through copper or cabble by brushed slot or cable entry union.
OPENABLE BACK COVE
The openable back cover provides easy assembly and save time in your renovation and repairs.
COVER HINGES
Cover hinges allow you to work in the assembly, repair and modification by holding the cover at the specified angle security and convenience.
SECURED LOCK SYSTEM
Provides secure locking with secured lock system.
TECHNICAL SPECS
| TECHNICAL SPECS |   |
| --- | --- |
| TYPE |   :  PIANO |
| STRUCTURE |   :  COMPACT |
| APPLICATIONS |   :  INDUSTRIAL |
| PROTECTION CLASS |   :  IP 54 |
| COLOURS |   :  RAL 7035 - RAL 7032 |
| PAINT SPECS |   :  ELECTROSTATIC POLYESTER POWDER |
| OPERATING TEMPERATURE |   :  -5 °C, + 40 °C |
ORDER
STANDART PART FOR K SERIES PANELS
Standart parts provided with Monitored piano type double cover control panel; lower base, Frame, Rare Cover, Lower and Roof Cover, Internal Assembly Plate.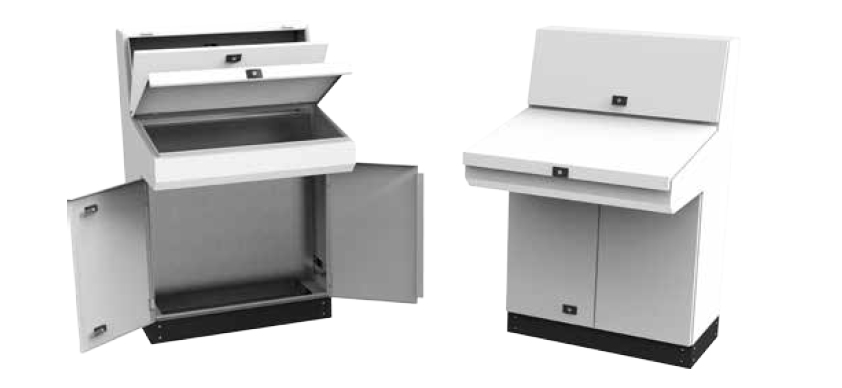 ORDER INFORMATION
You could find order code and size options on below table for requested Monitored piano type double cover control panel.